The Best Eyeshadow For Brown Eyes!
---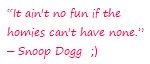 Tell Others About this page...
---
After consulting the color wheel for the best eyeshadow for brown eyes, we start by really looking at the logic behind the color. Then pinpoint three ways in which you can highlight your brown eyes…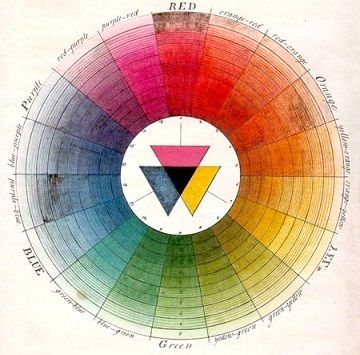 The good news is that brown eyes can rock just about any color you like! That fact though, doesn't really make us bland brown eyed ladies feel any better…
So here are better news… there are colors that will not just decorate your eye, but actually make them pop!
These three colors give them that "hey, I'm exotic too" vibe…
Brown is a neutral color.  You get different types of brown when you mix two tertiary colors that are opposite each other on the color wheel . 
But you can also get brown by mixing black into orange. So in terms of the color wheel, brown is a shade of orange. So now we'll go through the colors that work with brown in different ways.
The No.1 Eyeshadow To Make Brown Eyes POP!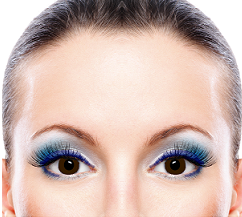 The color that will always bring out the brilliance in brown is blue. It sits opposite to orange on the color wheel.
Two colors that bring out the best in each other are called complementary colors. But since brown is a shaded orange, the complement is a dark, midnight blue.
Dark blue is to brown, what Beyonce is to J-Zee. It will upgrade your brown eye to another level, especially if it's got some shimmer to it!
The variations you can use on blue are purple-blue(indigo) for light brown eyes...
...and green-blue(teal) for darker brown eyes.
These lie next to blue on the color wheel. You can also use different shades of blue, as long as a darker blue is used as the main color.
You can find these shades in a complete pallette like
Marcelle Eye Shadow Quad( Midnight Seas - $15.95)
, or look for the individual color/s that fit you best.
Golden EyeShadow For Brown Eyes
Remember that brown is a shade of orange.
Next to the oranges, you'll find yellow on the color wheel.
Even though the orange also has reds next to it, these are not the most practical colors for eye shadow.
From observation, Gold (a  metallic version of a dark yellow) is the next most flattering color for brown eyes.
It's followed by coppery hues, which are a metallic form of orange-brown.
These metallics works best on darker skins because they also stand out against the brown skin.
Golden, coppery colors brighten the eye and brings a bit of a spark. Even though gold is a key color, it works better when combined with other colors like brown, or black. It also works with a dark blue when you're looking for drama! 
Neutral EyeShadow For Brown Eyes...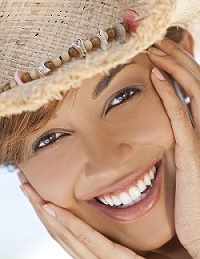 Neutrals are cream, beige, brown itself, and black.
These colors are actually different versions of brown that are not on the color wheel. They are analogous colors in a sense that they are brown that has been tinted with white, or shaded with black.
Among the neutrals, black has the most impact on intensifying your brown eye color. So black eye shadow can be used with the blues and gold. 
Smoky eye looks, and thick luscious black lashes also go a long way for intensifying your eye color.
The neutral colors are a good way to keep it simple while still highlighting your asset.  
So What's The Bottom Line?
Blues, Gold, and Neutrals make brown eyes pop! 
Metallic versions of blue and neutrals make eyes pop... 
Combinations of these three colors make brown eyes pop.
Black eyeliner and mascara in combination with eyeshadow for brown eyes makes them pop!
Makeup Know How Home

›
Eye Makeup Tips
› Eyeshadow For Brown Eyes
Didn't find what you were looking for? Search this site...