Protruding or Deep Set-Help!
by Mallerie
(Grand Canyon State)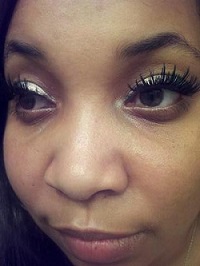 False Lashes
I've always thought I have deep set eyes but after this fantastic article I'm starting to think protruding eyes since the shadow is from the bottom lid, and my top lid area is just fantastical lol.

Please help! Also are they small?

Hi Mallerie

Oh thank you for calling the page fantastic!

Your eyes do lean towards being protruding, and big. You see this because your top lid doesn't have that deep dip that comes with being deep in the eye socket. The sort of bulges out of the socket.

So when applying makeup you have a whole lot of looks to choose from because protruding eyes are not very restrictive, unless you're trying to play them down.

The most important aspect of your eye shadow is that you must blend it well. This is because protruding eyelids leave so much space to be seen, unlike deep set eyes. So it's nice when the shadow just fades into the skin, with no visible edges to the color.

And about your fantastical false lashes:), I think you probably love them as they are, but if you trim them, you could rather go more bold and creative with the eye shadow. Trim them to be shorter on the insides, then longer as you move towards the outer edge of your eye.

I think a great look on you would be something with an emphasis on eyeliner, with the liner being thicker on the top lash line. Then some highlight only on the inner corner of your eyes.

I hope you try it out and see how it works! I suspect it will look lovely:)...