Spring Makeup For A Light Dewey Finish!
---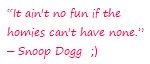 Tell Others About this page...
---
With a change of seasons comes another switch. Spring makeup goes beyond sporting the latest color trends.
You're going to find out how you can change your makeup according to the change in weather.  
You'll be putting together a fresh appearance that embodies the tell-tale signs of spring- A clean, crisp beginning and a burst of color...
So what comes with spring?
If season's we're children, spring would probably be mother nature's favorite... The one that always puts a smile on everyone's face and in return, gets away with everything!
The sun comes out to play, birds start singing, and everybody just wants to be fresh.
It's not a surprise that once again, nature dictates what we want to do with ourselves.
With this in mind, you'll find out how to get a refreshed, spring makeup look with the right types of products.
These are in order of importance, not application...
So we're going for bright lips, fresh looking glowing skin, and a choice between bright or simple eye makeup. 
Spring Makeup Formulas That Perk Up Your Skin...
Beautifully Bright Lips...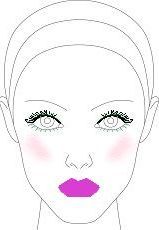 Lips are bright in spring because they're just so happy... They're the stars of of your spring makeup look!
Try out one or two spring shades that cater to your skin tone. Pinks, oranges, and bright reds are always good spring makeup staples...  
Opt for longer lasting formulas because there's so much eating and drinking happening. If you want your lips to be low maintenance opt for a lovely lip gloss or nude shades. 
To keep your lipstick longer on your lips, blot with a tissue, and reapply a few times, blotting in-between applications. 
Remember, cool colors with pink undertones, harmonise with cooler skin tones, and keep your pearlies white. These are purplish, peachy, pink colors.
The warmer colors like oranges, and orangey reds are more likely to bring out the yellow in your teeth. They're also more suitable for warmer toned skin.
Use a balm to keep lips supple, or something like Juice Beauty's
Conditioning Lip Color.
---
You can also find something in the
Too Faced La Creme Color Drenched Lipstick range, featuring lip-conditioning hydrators, it treats while it enhances lips.
Illuminating Primer- The Main Ingredient For A Fresh Glow  
A complexion boosting primer gives your skin a brighter appearance.
You can even use it as an illuminator when you've already applied foundation/ tinted moisturiser, or bb cream if they don't have that property. If you use it like that then you'd apply it under your eye are, at the top of the cheeks.
But now you must also remember that you'll be sweating a little more, and spending a little more time out there.  
So whether it's parties or  little get togethers, spring is the time when every weekend is eventful. So a primer after moisturiser, and before the rest of your spring makeup, helps your foundation stay a little longer...
You can also mix the primer with your foundation if you don't want too many layers.
Primers like these have all those properties properties are:
e.l.f. Studio Mineral Infused Face Primer
---
L'Oreal Magic Lumi Primer
(which is my favourite item of makeup ever... It's cheap and it works so well...)
---
Too Faced primed and poreless primer
---
Simple Eyes Spring Eyes...
Keeping eyes simple lends to that natural, fresh aspect of spring.
Neutral colors on the eye are balanced by a bright lip and corresponding blush. If you're looking for a simple pop of color, eyeliners can also give you endless variations for your eye makeup.
Team them up with black or brown eyeliners so that your eyes are still well defined.
The simple route ends at a refreshed, happy spring look.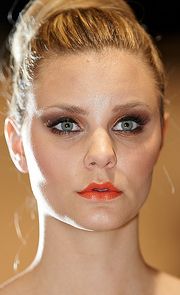 Update your look for evening, while still sticking to a neutral eye shadow palette.  
The only difference will be that the eyes will be darker, and a bit more dramatic.
Yet they still won't clash with your bright lips...
The less than simple look(brightly colored eye shadow) can go wrong in many ways.
At the end of this article you'll get an overview of what you need to know before attempting a bright eye makeup look...
Light, Dewey Foundation
Winter foundation has to make up for the dryness of your skin. So now with skin being a little less dry and a little more likely to sweat, you have more of a reason to powder up...
The driest of skins can stick to liquid or cream formulations.
If you have oily skin, a little powder foundation goes a long way.
Whatever type of foundation you use, make sure that it has some illuminating properties. This is what gives you a glow if you choose not to use primer. 
This is more important for powder foundation because powder tends to be matte and flat. So to give your skin dewiness, mineral foundation and foundations with complexion boosting ingredients are key.
Other, lighter options to foundation are tinted moisturisers, and bb creams.
Now you can have a ready tinted moisturiser, or just mix a portion of foundation with two or three of moisturiser, depending on your skin's needs. Needs in terms of how much moisture it needs, and how much coverage you like. 
A tinted moisturiser substitute (which puts together the functions of priming and a little color for lighter skins) is
Skin Bronzing Face Primer SPF 20 (Wild To Mild)
Set the foundation with feather light powder stokes. It must be as if you're alsmost throwing it on because you're hardly touching your skin with that brush...
'Feathery lightness' keeps you dewey...
Blush That Harmonises With Your Lippie
Be a little more bold with your blush, but only if you're keeping eyes neutral, and lips bright . We're talking bolder colors here,applied in just a few swishes...
When the lipstick is bright, it tends to overtake your face.  
So save the brighter blush for after you apply your lipstick. That way you'll know better about how much or how little is going to work.
Keep the blush minimal if you're going for a more neutral look. Then you can use a cream blush because it's a little less color and more dewiness...
Read our blush guide to figure out what will look best on you.
Multicolor Spring Makeup

For your Eyes
If you would rather concentrate on playing up your eyes, then choose you eyeshadow colors wisely.
Go through that eyeshadow guide so that you can choose colors that correspond with each other.  
It can be fun to play around with with colors, and you can use your spring makeup eyeshadow in these different patterns... 
When you do, don't forget the magic makeup mantra-
' Blend, Blend, Blend!'
Makeup Know How

>
Makeup Ideas

>
Spring Makeup
Didn't find what you were looking for? Search this site...