What Kind Of Eyes Do I Have?
by Priyanka
(India)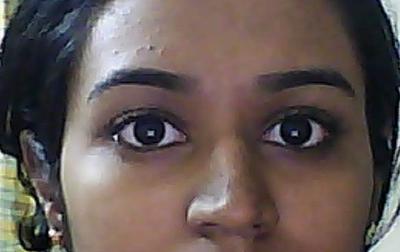 Priyanka's Eye Shape
My main guess is small, hooded, close set and protruding eyes...

No eye make up looks right just weird! Please help!

Hi Priya

I wish I could borrow your eyebrows...

Okay, you get a three out of four:), I think..!

Small- From the picture, they don't really look small. They look more medium. Quite perfect really...

Hooded- Slightly looking hooded, because with your eyes so open, there's a fair amount of lid showing, but the area above the crease is maybe fleshy(I can't see it very clearly) so that's maybe why you think it's hooded.

Close set- Yes! But not too much, because the space is almost as wide as your one eye... So you have leeway to highlight your inner corners.

Protruding- Also not too much...

Your eyes are actually quite balanced and look like you could get away with most types of eye makeup.

Maybe what you should do is really get comfortable with actual application techniques.

Firstly, unify the color and brighten with foundation, or concealer. Have it around the the eye, and underneath.

Apply eyeliner well, then get your eyeshadow technique on point. It's easiest with an eyeshadow brush, and don't forget that blending is the most important part!